-
Tennis Travel
(
http://tt.tennis-warehouse.com/forumdisplay.php?f=20
)
| | |
| --- | --- |
| shavenstringer | 01-05-2007 09:05 AM |
---
Anyone ever been to Stanglwirt?

Stanglwirt is a famous hotel here in Austria. They have a tennis camp run by Peter Burwash International. Tennis resorts online rated it the #2 camp in europe. Anyone know anything about PBI or this camp?

Thanks
| | |
| --- | --- |
| tennisphotog | 01-12-2007 06:52 AM |
---
I have been there, twice in the late 1990's. You can e-mail me on
klamarque@verizon.net
for more details if you like. It is a very classy spa/resort, not cheap, but not overpriced. Family run. The resort itself is very European (except the tennis instructors - they were a mix of euros and Americans/Aussies). When we went (we were living in London at the time) they all asked us how we found out about them and were surprised to have visitors that were not from Switzerland, Germany or other local countries. That said, it is a beautiful locale, playing tennis with the mountains as a backdrop. If you get a room, try and go with another couple as the suites (2-bedrooms) are fantastic. The food is fantastic and dining is an event, somewhat dressy, reflecting the somewhat formal atmosphere. All-round top notch Austrian hospitality.
As for the tennis, nice clay, scenic, beer served courtside, great week-long Peter Burwash program for advanced beginner-intermediate. Advanced players (4.0+) may not find it overly challenging but they try and make up for it. I am a 4.5 but the others with me were lower rated and we all had a great time.
Hope this helps.
| | |
| --- | --- |
| CivicLx | 10-04-2012 02:44 PM |
---
Forgive for bringing such an old thread back to life but I just found out about this place today. I had seen a beautiful picture on a comics/movie message board and only just thought about checking the URL on the pics. Anyway, that's how I know the name now. The scenery is absolutely breathtaking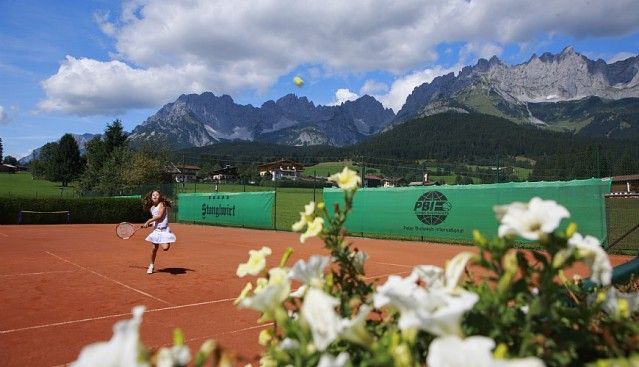 | | |
| --- | --- |
| Thud and blunder | 10-05-2012 04:37 AM |
---
Great place; been three times, hopefully will get back there next summer. The tennis is more social than super-intense, but if you are at a higher level, the coaches will work with you individually.
All times are GMT -8. The time now is

09:19 PM

.
Powered by vBulletin® Version 3.6.9
Copyright ©2000 - 2015, Jelsoft Enterprises Ltd.
© 2006 - Tennis Warehouse