Racquet Oddity #1
Prince Graphite Pro Series 90 custom painted as a Head Liquidmetal Racquet!
This is a custom painted racquet done by the infamous "Chris_in_Japan"!
It is not "professionally" painted, but it could very well pass as one! There are some small paint chips on the racquet and some head wear, I would rate it a 9/10 though! It has fake liquidmetal ridges and reads "HEAD" on both sides of the neck. It is a 4 1/2 grip size with Prince buttcap and is freshly strung with Yonex Tough Brid Hybrid. I paid $60 shipped so that's what I'm looking for.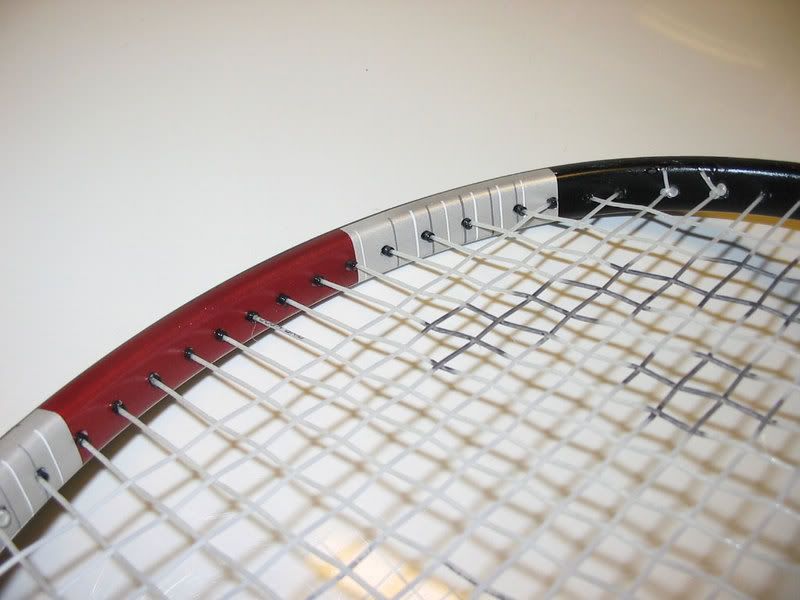 Racquet Oddity #2
Germany Exclusive Topspin TPC1000 Racquet!
Pretty good player's stick that can only be found in Germany. Here are it's stats in German!
Schlägerfläche: 650 cm2
RA: 75
Länge: 69cm
Balance: 32
Gewicht: 300 g
The racquet itself is in excellent condition, only a small scuff or two on the sides and head, overall it is a 9/10! It is strung with Prince Synthetic Gut w/ Duraflex and is a 4 3/8 grip size. I am asking only $50 shipped for this one!
Racquet Oddity #3
Babolat Pure Drive Team w/ C...........rack in the neck!??!
I don't know if anyone would want to by this, but I somehow managed to crack my Pure Drive in the neck. The crack is almost all the way through the neck, but not quite to the point where it is deformed. I tried super/epoxy glueing it and then I put electrical tape around the crack. The racquet has a lot of scrapes and chips and scratches on it....... but since the crack isn't in the head it is still playable, but it is definately a 1/10. It is strung and is a 4 3/8 grip size. I would only want $20 shipped for it!
More pictures of each racquet can be found here
http://s89.photobucket.com/albums/k2...ks%20Oddities/
Email me at
shoryuken89@yahoo.com
if you are interested or have any questions. Thanks for looking!