I recently bought a Dunlop 4D backpack and was disappointed with its lack of features.
http://tt.tennis-warehouse.com/showthread.php?t=337446
Wandered past the local tennis shop recently and bought a Wilson BLX backpack (black 'club' version) and its superb!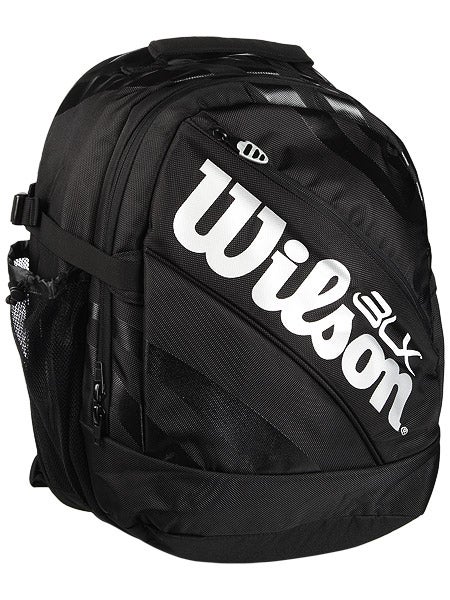 http://www.tennis-warehouse.com/Wils...BLXCLUBBP.html
http://www.tennis-warehouse.com/view...code=BLXCLUBBP
Pros
It's huge. Much wider than the Dunlop. You can get everything into this backpack - shoes, several tins of balls, drinks, clothes etc
Lots of very useful storage compartments (unlike the Dunlop)
Outer side meshed compartment for a tin of 4 balls
Outer side compartment (lined with heat/cold reflective material) for large drink cannister
2 main compartments (one for racquets, one for gear).
The main comparment can be unzipped almost like a suitcase giving easy access to items
1 internal zipped compartments for valuables.
1 smaller outer zipped compartment (which I use for 'wet' clothes).
Comfortable padded straps
Good quality zips
Does everything you could reasonably want from a backpack
Cons
My only minor gripe is the outer zipped compartment, if used for wet gear could have a thicker lining or better still a heat lined covering to prevent the possibility of moisture soaking through into the bag. I used a clear plastic bag inside it for wet clothes.
Overall:
Note: the black BLX backpack (known as the 'club' line) is different to the red or blue BLX backpack (known as the 'team' line). The latter has different internal storage compartments and doesn't have the side pockets for balls drinks etc. Check carefully before buying.