Prologue:
As a few of you may know, I had the luck of coming in to possession of a Custom Wilson 93 racket, and I gave a review of it. In this thread, I will include a review of the 93 as well as a new racket.
Anyway, back on topic:
I managed to get a hold of one gem of a racket, a racket that is simply extraordinary! That's right, an actual Federer frame, right from the Wilson pro room (not customized by P1 yet). It still has a Wilson leather grip (the best grip I've ever seen, far superior to retail BTW). The racket has a custom grip mold, which makes a few shots easier than with a regular grip (more on that to follow). In addition, the head guard is the same as the nicer K factor head guards, much nicer than the retail plastic 2012 ones.
As you can see in the pics, this racket is a 2012 Fed frame, with the current (and best, IMO) paintjob. The grip seems slightly shorter than usual 90 square inch grip, but the racket is still 27 inches long.
I strung it with Babolat VS and ALU Rough (51 lbs./48 lbs.), added a Tourna Tac XL over grip, and added Power pads (just for fun).
Then, the fun began! I hit with it for 6.5 hours, and was impressed (obviously). Here's a detailed review of Fed's and the 93:
Pictures!!!: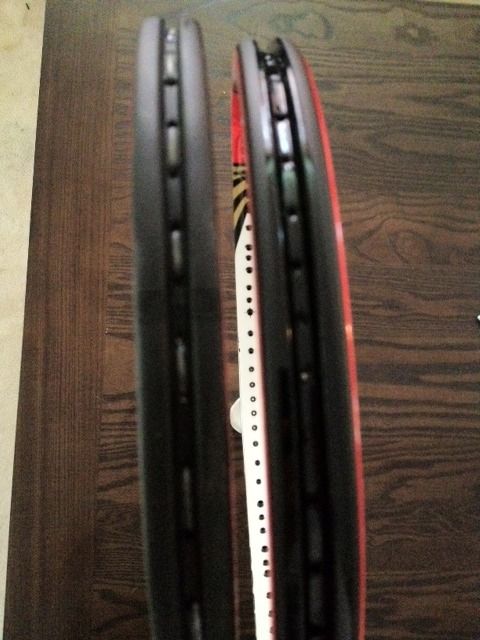 This picture illustrates the difference between the Federer grommet and the retail grommet of a PSBLX95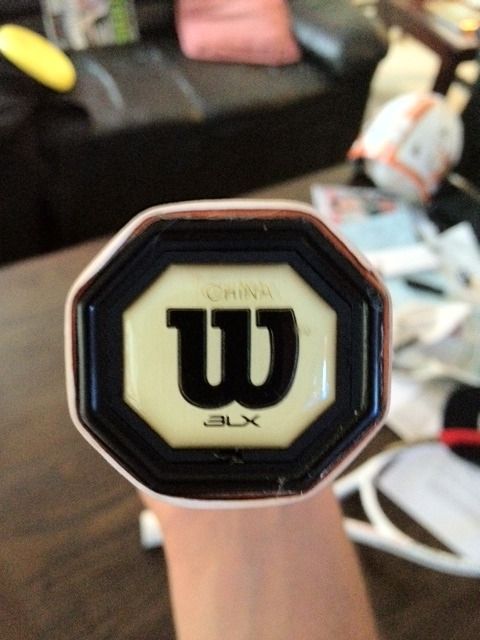 A look at the butt cap of the frame (note: it is a trap door butt cap, used since the racket hasn't been sent to P1 yet)