Too many racquets in the bag, so I'm selling two of my newer Head Youtek Radical Pro racquets. These are the non-IG versions. I replaced the leather grips with cushioned grips and Wilson overgrips, but will include the original leather grips with the racquets. Both racquets have head protection tape on them.
Specs on TW website:
• Head Size: 100 sq. in. / 645.16 sq. cm.
• Length: 27 inches / 69 cm
• Strung Weight: 11.6oz / 329g
• Balance: 2pts Head Light
• Swingweight: 345
• Stiffness: 58
• Beam Width: 21.5 mm Straight Beam
• Composition: Graphite/D30
• Power Level: Low
• Swing Speed: Fast
• String Pattern: 16 Mains / 19 Crosses
• String Tension: 52-62 pounds
Racquet #1 (below)

• 8.5/10 condition, 3-4 hours hitting time on it.
• A few small paint chips from carrying with other racquets in a tennis bag prevents it from being a 9/10 condition.
• Purchased this one new from TW in the spring of 2012.
• Originally 4 3/8 grip, but put a shrink-wrap sleeve on it to increase the grip size to 4 1/2. This could be easily removed to make it a 4 3/8 grip again or to decrease grip size.
• Grommets are in good shape.
• Hybrid strung on November 3rd with Isospeed Energetic+ 16-gauge multifilament at 55 pounds in the mains, MSV Co-Focus 18-gauge Co-Poly at 50 pounds in the crosses.
• $100 shipped in CONUS.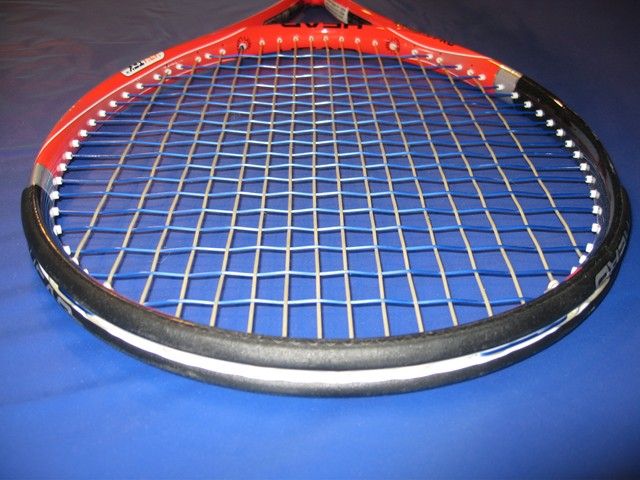 Racquet #2 (below)

• 8/10 condition, some wear evident in the paint on the head, cosmetic only -- no scratches in the graphite. Grommets were replaced this past summer and are in good shape.
• Hybrid strung on November 6th with Mantis Comfort Synthetic 16-gauge at 58 pounds in the mains, Mantis Power Polyester 17-gauge at 50 pounds in the crosses. Strings have never been hit.
• $90 shipped in CONUS.
Or $175 for both, shipped in CONUS.
Can send more pics of each racquet on request. Please send questions or offers to wtucker@q(dot)com