Many have asked me how I turned my Black Ace 93 into a maneuverable "cannon" ... I guess it's all about SW and weights in the right places ...
I must confess that I really don't know how I did it. Things came to my head and it was all serendipity. A lot of the stuff I did were primarily to adjust the grip shape and size. Then I got carried away. I KNOW I wanted a very head-light BA93 (due to the SW) and I started to experiment this and that until things were right ... for ME.
Alright, let's start with the inside:
The picture below shows two low-density rubber foam piece inserts. (From calculations each must be around 3 grams). These pieces were "primarily" intended as shock absorbers. (Yeah, the racket's soft enough but I still wanted more!!)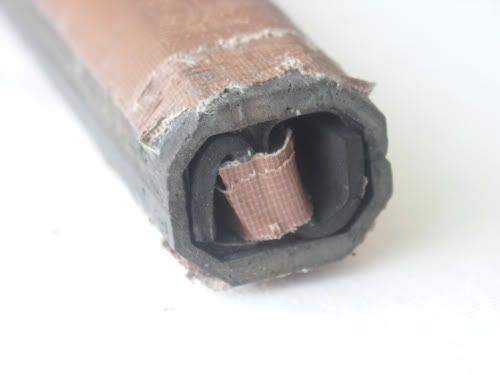 (The small strip of duct tape in the middle is to hold them together and to prevent them from slipping inside further).
Here you can see the length of the low-den rubber foam piece. I intended for them to be long enough to reach at about the "V". (At first there weren't any lead. These were added later as I needed more tail weight,.)
The reason I added lead "inside" the racket (as opposed to wrapping lead tape on the pallet) was because I wanted the added weights to be as near the racket's center axis as possible. I just thought it may be better. Is it really better or not, may be TW's professors can help explain.
Here's the picture of the two rubber inserts. You can see a strip of duct tape on each of them. I don't remember the weights of the tapes, may be around one gram or so. The reason for the tapes was to prevent "abrasion". You'll see later why this is needed.
Each of the rubber insert (with lead) weight is 9.2 grams. So, with two of them inside the racket, that makes 18.4 grams
(Continue below)