Federer and life after the retreat: "I would like to teach tennis at the Rafa Nadal Academy"
Roger does not yet have precise ideas about his retirement, but he knows perfectly well what to do next: to teach young people, perhaps together with his usual rival
18/10/2019
Lorenzo Colle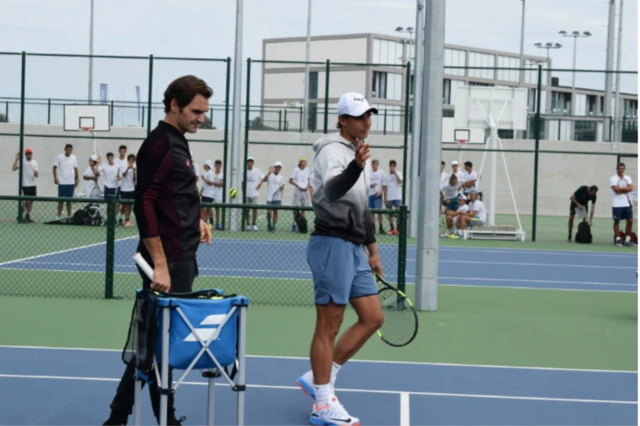 In recent times,
Roger Federer
is inevitably forced to talk a little more often about his future. With the approach of the 2020 season, many people ask themselves what the Swiss's intentions are. In recent days, the Basel champion
has revealed some details about his schedule
for next year, confirming his
intention to play both the Tokyo Olympics and Roland Garros
.
The hot topic, however, when it comes to the Swiss's future, is obviously the question of withdrawal on which Federer himself does not yet seem to have the precise ideas. "
They've been asking me for a while, I'm sorry, I still disappoint you ... I didn't decide when I will stop, "
the Swiss told SportWeek (the sports weekly attached to La Gazzetta dello Sport due tomorrow). However, during the same interview, Roger proved to have a very specific plan regarding life outside the circuit.
" I would like to teach young people tennis. And I'd like to do it with the Rafa Nadal Foundation
". A special declaration that once again certifies the evolution of the relationship between these two samples, passed from the simple estimate of the first times to what we could perhaps also define friendship.
Federer has also always been
a great supporter of the Nadal Academy,
whose inauguration he attended as a guest of honor
. "
If my children want to play tennis, I will definitely send them here,
" he said on that occasion. Now it seems to have opened more than a crack for a historic collaboration that could
project the Majorcan project towards a completely different dimension
.
Roger non ha ancora idee precise sul proprio ritiro, ma sa perfettamente cosa fare dopo: insegnare ai giovani, magari insieme al rivale di sempre
www.ubitennis.com