From Slate.com...I thought the same thing...Agassi Sr. vs. Agassi as a 21-year-old:
Agassi vs. AgassiTennis' elder statesman battles his 21-year-old doppelgänger.
By Dan Kois

Posted Friday, Sept. 1, 2006, at 4:58 PM ET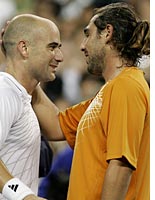 Andre Agassi and Marcos Baghdatis

For those who could stay up until 1 in the morning, Thursday's night's second-round U.S. Open match between Marcos Baghdatis and Andre Agassi was like watching a man face his own ghost. On one side: Agassi, 36, back ailing, shaved head shining in the lights, accepting adulation with the beatific ease of a monk. On the other: the Cypriot Baghdatis, 21, long-haired, charismatic, flashy. Agassi, in the final tournament of his career, seemed to be playing against himself—the 21-year-old, image-is-everything Andre Agassi. Need any more proof that these guys have the same DNA? Hell, they were even wearing
different-colored versions of the same shirt
.
The match went five sets and nearly four hours, but Old Agassi finally beat Young Agassi. That's fitting, considering Agassi's career trajectory. Old Agassi has been beating Young Agassi for the past nine years, ever since he fell to 141st in the rankings in 1997.
Tennis players are alone under the lights, exposed to an audience that studies their every move. No one's face is hidden by a helmet; no player subordinates himself to a team. Nevertheless, the rap on some tennis stars, like Roger Federer, is that they're relentless automatons. This rap is unfair. It's not Federer who lacks personality, it's the modern game, with its long rallies staged by ground-stroke machines who rarely approach the net. Since, to the casual fan, everyone plays with the same style, it's hard for anyone to stand out based on the way they play.
placeAd(5,'slate.sports/slate')
http://ad.doubleclick.net/click;h=v7/3454/0/0/%2a/s;38596308;4-0;1;10756472;574-446/33;17178762/17196657/1;;~aopt=2/1/11009c;~sscs=%3fhttp://www.slate.com/id/2141802/
There are only two circumstances under which the contemporary game generates real electricity. The first is when fans can engage with a long-running narrative—like Agassi's rise and fall and rise and fall and rise. The second is when they're confronted with an absurdly flashy personality. Rafael Nadal certainly fits that bill. The Agassi of today—the game's elder sage—does not. But Marcos Baghdatis does, and his exuberant play last night was a reminder that the young Andre Agassi did as well. Old Agassi is an inspirational figure, and I hope he defies the odds to win his final tournament. Baghdatis' charisma, though, reminds me how I miss the excitement that Young Agassi delivered—that mix of talent, athleticism, and boneheadedness that made him a star.
Except for the curtain call at match's end, every moment of great theater on Thursday night belonged not to the even-keeled Agassi but to his younger doppelgänger. It was Baghdatis who, before the match, frankly acknowledged Agassi's overwhelming crowd support: "Sure, I'm the bad guy for tonight." It was Baghdatis who fell apart early as he dropped the first two sets and who came out firing to win the third. It was Baghdatis who, in coming back from a 4-0 deficit to win the fourth set, clanked a grade-school overhead on double break point, then crouched in the middle of the court, crossed himself, and stuck his racket in his mouth.
All that happened before the match's most dramatic moment. With the final set tied 4-4 and the game at its first deuce, Baghdatis fell writhing to the court with cramps in both legs. By rule, he could not receive any medical treatment during the game, so Baghdatis hobbled around, somehow prolonging the game for 16 more points. Agassi seemed to be toying with his young opponent, mercilessly running him from side to side before finally disposing of him after the eighth deuce. Three games later, with his legs back under him and a chance to force a final-set tiebreaker, Baghdatis double-faulted twice in a row. The game, and the match, soon went to the old man.
As Baghdatis predicted, the crowd belonged to Agassi. They cheered when he caught up to the Cypriot's rocket forehands and returned them for improbable winners; they cheered when he pushed his 36-year-old body to the net to chase down Baghdatis' delicate drop shots; they even cheered when he used instant replay to challenge a call. But for most of the match, the quiet, disciplined Agassi played Baghdatis' foil. The 21-year-old played with the abandon and charisma of the 1990-era Agassi. His shot-making was spectacular—as spectacular as his screw-ups. Despite not cheering for him all night, the crowd gave him a huge ovation when it was all over. Agassi was the star last night, but Baghdatis was the one you couldn't look away from.
Agassi has a good chance at winning his next match against unknown German Benjamin Becker. His likely fourth-round opponent would then be Andy Roddick. Could he beat Roddick, or Nadal, or even Federer? Last night, under the lights, Agassi seemed capable of squeaking by anyone, even his younger self. And when the U.S. Open ends, with Agassi (or some villain) as men's champion, I'll have a new favorite player: Marcos Baghdatis.