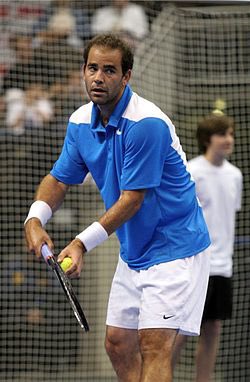 Today, August 12, 2021, one of the greatest tennis players in the history of tennis,
Pete Sampras
, celebrates his 50th birthday. During his career, he won 14 Grand Slam titles and 64 ATP singles titles, while spending 286 weeks in first place in the ATP world rankings. He has won 7 times Wimbledon, 5 times US Open and 2 times Australian Open. Until 2009, he held the record for the number of grandslams won, before being surpassed by Roger Federer.
In terms of gaming skills, Sampras has been known during his career for his excellent serve, which many (fans & experts) consider to be the best in the history of tennis. His other strengths included volleys, smashes or forehands.
Sampras' biggest rival was Andre Agassi, with whom he created the most interesting tennis rivalry of the 1990's. His other big rivals included Goran Ivanisevic, Boris Becker or Patrick Rafter.
Sampras ended his career in triumph at US Open 2002 and 5 years later he enter into the Tennis Hall of Fame.