Since the importance of Olympic Games for tennis has been debated here some times; I want to ask you how important do you think it´s winning a medal in an event like the Panamerican Games, and also others as: Southamerican Games, Bolivarian Games(the event is open to athletes from Bolivia, Colombia, Ecuador, Panama, Peru and Venezuela), Central American and Caribbean Games(in which Victor Estrella Burgos has won a lot of medals), Mediterranean Games, different Binational Games in Southamerica (It´s for unders 16 years old players, I think only the Binational Games between Argentina and Chile include tennis), African Games and Pacific Games. Then the European Games, Central American Games and the and Pacific Mini Games, which don´t include tennis for now.
I think all these competitions are importants; if I was a tennis player I would try to participate in all the competitions of my region. These competitions has less repercussion than Olympic Games in the tennis world, but must very emotional to participate! They say these are very special competitions. What do you think? For e it´s more important than a Masters 1000 event. Here some pics:
Southamerican Games 2014: Facundo Bagnis (ARG), Guido Andreozzi (ARG) and Paul Cavdeville (CHI)
Panamerican Games 2015: Facundo Bagnis (ARG), Nicolás Barrientos (COL), Dennis Novikov (USA)
Central American and Caribbean Games 2014; here the champion Victor Estrella Burgos and the runner-up José Hernandez, both from Dominican Republic:
Bolivarian Games 2013: Ivania Martinic and Guillermo Matias Nuñez Beltran won in mixed doubles, Guillermo won in singles too: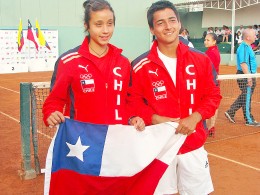 Pacific Games 2013: Nickolas N'Godrela (NCL), Julian Delaplane (NCL) and Cyril Jacobe (VAN)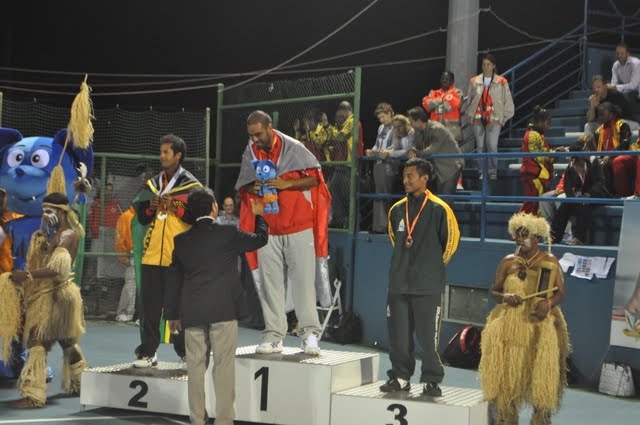 African Games 2015: Denis Indondo (COD), Alexis Klegou (BEN) and Mark Fynn (ZIM)
Mediterranean Games 2013: Blaž Rola (SLO), Marsel Ilhan (TUR), Malek Jaziri (TUR). I only found this image and other of the doubles.
Blaž Rola and Tomislav Ternar (SLO), Mohamed Haythem Abid and Malek Jaziri (TUN), Albert Alcaraz Ivorra and David Perez Sanz (ESP)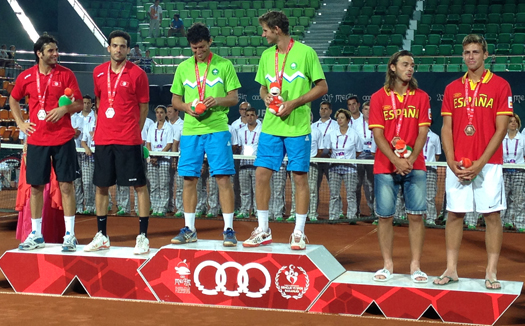 Asian Games 2014. Yoshihito Nishioka (JPN), Lu Yen-hsun (TPE), Yuichi Sugita (JPN) and Yuki Bhambri (IND).
Tennis was included in the 2010 Commonwealth Games: Somved Devvarman (IND), Greg Jones (AUS) and Matthew Ebden (AUS)
Adds:
Youth Southamerican Games 2013: Marcelo Zormann da Silva(BRA), Pedro Iamachkine(PER) and Francisco Bahamonde:
2014 Youth Olympics: Kamil Majchrzak(POL), Orlando Luz(BRA) and Andrey Rublev(RUS)
Last edited: