BLUF: Technifibre Multifeel Black mains and Gosen AK Control crosses.
I normally play with gut/poly, typically Klip/Black Zone or Klip/Cream in 18x20 sticks. Every now and then I throw a FB of NG or multi in one of my racquets as I like the feel and playability of a soft string bed. I haven't tested a ton of multis outside of the more common ones, but Multifeel Black has worked better for me than anything else outside of gut/poly and I really enjoy that string as it lasts longer than any multi I've tried.
I hit with moderate topspin on the FH, nothing crazy, and will eventually break a string. I can usually get about 8-12 hours or so out of a bed of Multifeel before I break a cross. I've noticed the mains don't fray nearly as fast for me as the crosses.
Enter TWU data as I search for a soft hybrid solution. Some people discount the TWU string data altogether and some swear by it. I'm probably more in the middle and approach it with some skepticism, but I've found it often provides a good starting point and eliminates some strings I'm probably not interested in.
Due to the data I decided awhile ago to give Gosen AK Control a try. It's a synthetic gut, which I normally don't like, but according to TWU it's the spiniest non-poly string along with Multifeel Black, which I do find to be the spiniest multi for me. I tried Gosen in a FB and didn't really like it. Even in an 18x20, the strings got stuck out place like crazy and I didn't think it was nearly as spinny as MF.
I eventually decided to try it in a hybrid with MF Black 16 in the mains and AK Control 16 in the crosses at 57/57. The durability problem with the crosses fraying quickly seems solved and the spin compared to a FB of MF is about the same. Pretty interesting combo.
It's not going to work if you break strings in 5 hours or have an open pattern racquet, but if you are looking for a soft, relatively spin-friendly setup, this might be your huckleberry.
If you decide to try this combo or have already, I'm interested in your thoughts either positive or negative.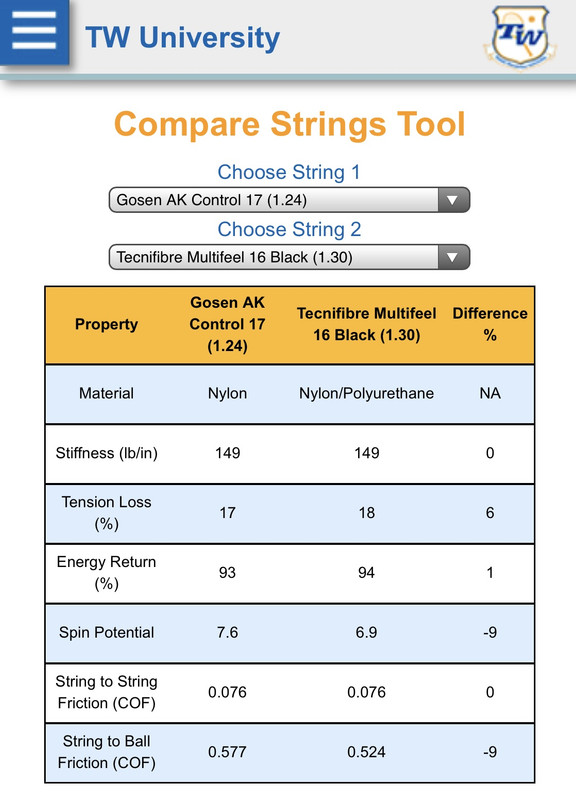 Last edited: