K-Swiss Defier Misoul review
Tennis warehouse link:
http://www.tennis-warehouse.com/descpageMSKSWISS-MKMS.html
I want to first off thank TW, for providing me the opportunity to review these shoes. I hope they are as good as the first shoes I reviewed, the Wilson Trance All Courts. Review of those shoes could be found here:
http://tt.tennis-warehouse.com/showthread.php?t=181754
Those shoes lasted me one year. YES, >>> ONE YEAR.
I hope these are half as good, and I could say this>> so far, they look promising. I decided to wear them today to a woman's tournament where I had the reponisbility of being the "official" photographer. From the get go, I had a lot of people asking me about the shoes, and where I purcahsed them. So, like me, people really liked the look of the shoe.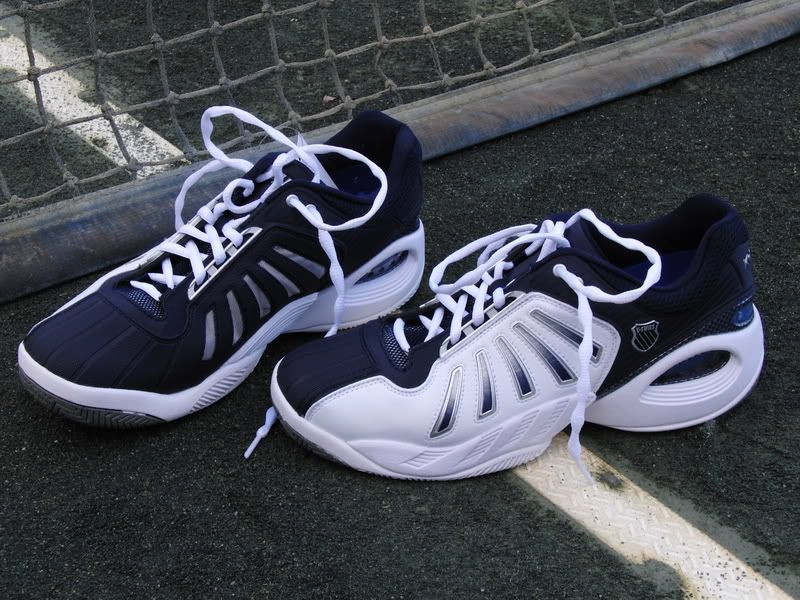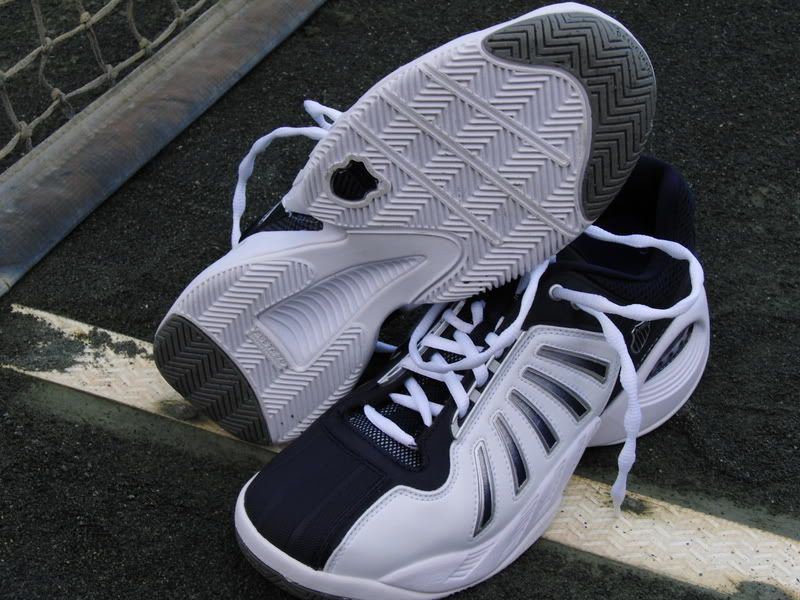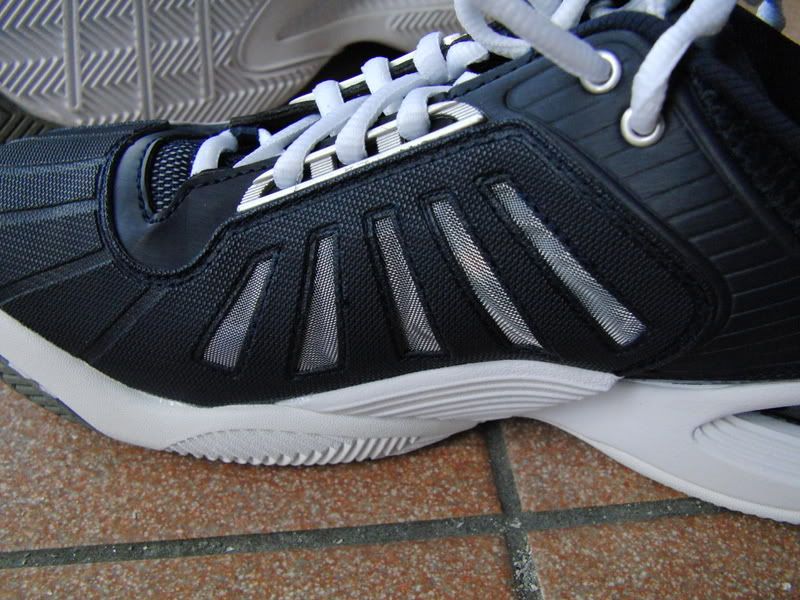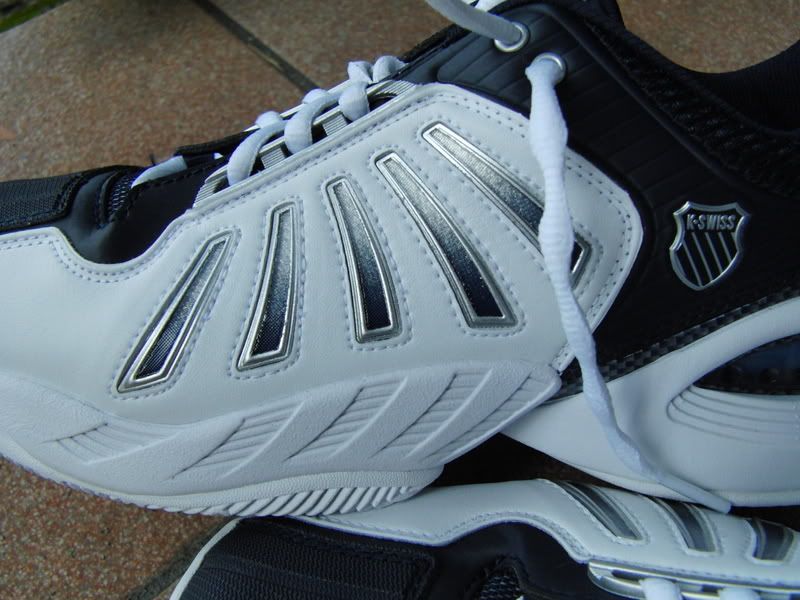 The Misoul's come with two different souls that are easily removed, and have a "peg" function that fits into a hole on the shoe, so the souls don't slide around. One soul is for "match day", are much lighter, and have a lower to the ground feel. The second pair of souls, are for long running/practices, are much more cushiony, and and a bit higher off the ground feeling. I could say without hesitation, each soul provides a very different and unique feel, that seems to deliver on what they promise to do. For the tournament today, I decided to wear the cushioned version, as I was going to be doing a lot of walking.
The look of the shoe, in my opinion is very classy looking. Nothing too over the top, and definitely not drab. They have a overall nice look that is well-balanced. The Misouls, as can be seen in the above photos are half white, half navy blue.
I found the shoe to fit true to size, with a lot of room in the toe-box area. They didn't necessarily require a break in period, but like most of you, I'm sure you like the way the shoe fits after a few weeks of play. Seems like the material always softens up a bit, and starts feeling like a glove on your foot. You'll definitely have to wait a week or so (depending how much you play), to get there.
I wore the shoes today from approximately 7:30 AM to 6:00 PM, which included about two hours of play (4:00 - 6:00 PM). 10 and a half hours, and I could say the cushioning of the shoe was a real relief. I'm recently coming back from a bad ankle sprain, bruised achilles, and the cushinong and support of the shoe really assisted me in dealing with so much walking. The shoes never felt uncomfortable, or heavy/cumbersome, although they are not the lightest shoe out in the market. As for play, the shoes were very stable, with lots of lateral support, and really grip the ground very well. They provide excellent support on the outside of the foot, and in the arch. Additionally, provide lots of needed cushioning in the heel area.
I don't want to go any further than this for my initail review, as I want to get a few weeks of play time in them to give a more in-depth review. However, as I stated>>> so far, they look very promising.
Stay tuned, as there is more to come.
UPDATED REVIEW
2/25/09
Wanted to provide a more in depth review of the shoe. being that I have now been wearing them exclusively for the past 3 weeks.
Please note: These shoes come with two different in-soles. A lighter/thinner version for match play,and a heavier/thicker version for longer workouts. Although I like the feel of a shoe that is "closer to the gournd", which is provided by the thinner version, I've only used the thicker version because of a recent ankle injury, which resulted in a swollen achilles tendon.
I have to say, the thicker version of the in-soles has been a very pleasant surprise, because without it, my court time would have been extremely limited. As you could guess, this version along with the extra cushioning the shoe comes with in the heel area has really assisted me in being able to stay on the court comfortably.
The Misouls have great traction on both hard and clay (har-tru) courts, and better than average stability. There is very little twisting when stopping and cutting back to change directions, because of the great response provided. The lateral support is well-above average. There is very little slippage inside the shoe, where one's foot seems to slide around when running hard and having to change directions quickly. The toe box area provides above average protection. As for breathability, the Misouls once again have very good ventilation.
I'm very pleased with the shoe, and would definitely recommend them. Because of the trust I have in the shoes ability to alleviate any discomfort I have with my achilles tendon, they have enabled me to be on the court, where without a comfortable shoe like this that provides excellent playability, >>>>I'd probably still be on the sidelines playing it safe.
I'll be switching very soon to the thinner in-soles, and will provide another review of how the shoe feels/performs with those.
Last edited: