A 70 year-old gentleman set the alarm at his California home for the crack of dawn last Sunday to enjoy a date with Roger Federer. If the Greatest Mark II was going to make history in the French Open final, Rod Laver, the Greatest Mark I, was determined not to miss a moment on television.
"Yep, before 6am, not too early for me," enthuses the old maestro. "And I couldn't have been more thrilled for Roger, seeing him play so brilliantly. With no Rafael Nadal in the final, Roger would have said to himself, 'It will really be a failure if I don't win it now'.

"I think he's over the biggest hurdle in his tennis with the French under his belt. Pete Sampras, Boris Becker, John McEnroe, great players, never did. The monkey is off Roger's back and he'll play, not with abandon, but with excitement, enjoyment and freedom. He'll be Wimbledon champion again next month unless someone catches fire like Robin Soderling did against Nadal." If Federer does indeed regain his crown, Australia's living legend, still unmistakable with the freckles and birdy nose 40 years after the last of his own four triumphs, will be there to salute him. After being invited for his first visit to his favourite lawns for nearly a decade, nothing would give him more pleasure.

Because for all the arguments that have resurfaced again this week about whether Federer, with his record-equalling 14 grand slams, may now have surpassed him as the finest player in history, there is such a deep connection, forged by respect and admiration, between the pair that Laver feels any debate is redundant.

"You can be the dominant player of your time but you can't compare eras," he says. Still, he concedes, let's see what Federer's tally is by the time he has retired. "I have to believe it's going to be a lot more than 14. He's only 27; I played my last Slam in 1969 and I was 31."

But what about those two calendar year grand slams, spanning the amateur and Open eras in 1962 and 1969, which remain the twin monuments to Laver's supremacy, the main reasons why today he is still revered, like Muhammad Ali in boxing and Pele in football, as tennis's nonpareil?

No one has ever won all four in a year since that quadruple, which had Sports Illustrated noting in awe in the infancy of tennis's Open era: "The sport will have to be opened considerably wider, to include angels, highly-trained kangaroos or something as yet unenvisaged, before anyone else will be in Laver's league."

Andre Agassi calls Laver's slams a "God-like" achievement, never to be repeated. Only the freckled god himself begs to differ. "I certainly can see the Grand Slam being done again. I'm surprised it hasn't happened in 40 years but Federer's got to be odds on to pull it off if he clicks at the right time through the tournaments. It's very possible for him."

He believes that Federer's rejuvenation, ironically, stems from the depths of his despair this January in Melbourne's Rod Laver arena. "The Nadal defeat hurt him so much that he went away and took stock of his whole game," Laver said. "In Paris, you could see he's now learned the perfect drop shot for his repertoire. The backhand one he almost backs into the net is just incredible."

Laver sounds like a cross between keen student and fan; in an era when the crushing, ever harder-hitting baseline exchanges remind Laver of "ping pong", he thrills to the power and athleticism but adores the idea of any old-fashioned, subtle variety making a comeback.

Nadal's Wimbledon win over Federer last year was the greatest tennis he has ever seen but he is evidently worried for the champion. "Tendinitis? Nadal's going to have to just rest and get away from tennis and I'd be a little surprised if he plays because his career is more than playing at Wimbledon one year. He's defending the title and if he loses there that's not a good omen for his confidence."

In his heyday, Rodney George Laver, the 'Rockhampton Rocket', was a cross between Nadal and Federer; both artist, gentleman and murderous leftie in one slight package. He laughs about what was once the wonder of the sporting age, that monstrous left forearm, which could whip topspin bullets past opponents as never before.

"Atrophy has set in – it doesn't perform quite as it did then!" he chuckles. Tennis is not so much fun these days with arthritis in the wrist the "payback" for all those years of being the first Lord of Topspin. He'll still play the odd match with son Rick at the La Costa Country Club near his home in Carlsbad. Does he still pull a crowd? "Oh no. Just he and I – and maybe the odd person peering through the fence, laughing at us a little bit."

Marvelling, more like. Laver's greatness is such that he's bathed in myths. Was he really a sickly child? "I had jaundice at 15 and was out of commission for a bit, that's all." What about stuffing cabbage leaves under his comedy hat to cool him from the scorching Brisbane heat? No, just a "gimmicky thing" he once did.

Turns out even the nickname 'Rocket' was ironic. "Harry Hopman [the famed Australian Davis Cup captain] seemed to think I was pretty lackadaisical, always waiting to the last minute to get to the ball. Just like Ken Rosewall was called 'Muscles' because he didn't have any, I was the rocket man."

Despite his 43 years in America, Laver still seems like a classic, straight-talking Queenslander who would always prefer beer to Champagne and will not entertain bull. Ask him if he might, as many believe, have won another 10 grand slams if not for turning pro in his prime years, he shrugs: "I only worry about the ones I did win!".

He regrets nothing. That five-year period in the pro game testing himself against the best, like his idol Lew Hoad, hardened him into the player who returned to bestride Wimbledon again. The Nadal-Federer rivalry over 20 games? He and Rosewall played 185 times, of which Laver won 100. "And they're only the ones we kept score on!" said Laver with a laugh. "I never believed I'd get the chance to play Wimbledon again so I was just excited by the sheer thrill of getting back when tennis went open."

Even now, all those years after his last triumph over John Newcombe, the thrill of returning to Wimbledon in a couple of weeks still "overpowers" him. "It's the faraway dream I had when playing some kid in Brisbane. I'd look over the net and think, 'this is it, Wimbledon final, match point'."

He's looking forward to seeing a "matured" Andy Murray "have a really good run" this year but you sense that on Centre Court, perhaps under the closed roof he is so keen to see, he will be rooting for a kindred spirit, almost his natural heir.

"Someone like Federer just loves the game and respects his opponent; I like to think I was the same," he explains. "You're both out there trying to win but you just want to make sure you're representing all the past champions and the game of tennis too." With majesty and modesty, no one ever did it better than Laver.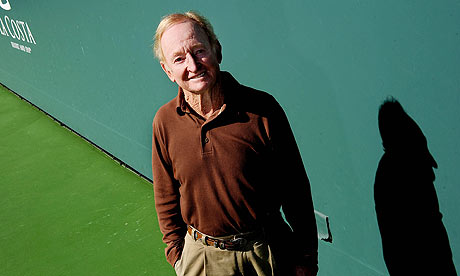 http://www.telegraph.co.uk/sport/tennis/5517604/Rocket-Rod-Laver-still-firing-on-all-cylinders.html
Last edited: