Most of my life I have been wearing what would categorize as minimalist shoes. I've never worn (if i have, it wasn't for a long period of time) shoes that have modern technology with padding and support or any type of specialized shoe. So as you can imagine, my feet are stronger than the average person and I have a different way of walking and running which is that I never strike my heel first.
I have been using Feiyue shoes to play tennis.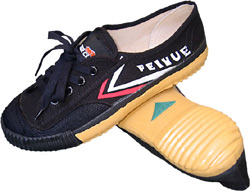 I will tell you that i have zero issues playing competitive tennis in these shoes. Since I have proper technique and footwork, I never land improperly on myself and have never caused myself a foot injury (the last time i hurt my foot was when i was a kid). I can even slide in them like any tennis shoe. I am also off the ground a lot, jumping for balls and jumping on drive volleys and powerful forehands. My strong feet and proper foot striking allows me to minimize any shock or impact naturally.
My problem, though, is that the feiyue shoes will get holes in the bottom within just a few weeks of hard court play. So, of course, I looked into the super durable tennis shoes like the Adidas Barricade 7.0. I have nothing bad to say about tennis specific shoes except that they probably aren't right for me. I know the majority of tennis players really enjoy these type of shoes and love the support they offer, but for someone like me it's a nightmare. My knees and joints were in moderate pain after just 30 minutes. I played in them for about 3 hours. I do acknowledge that it's kind of like a luxury car. Everything is a smooth ride. You don't have to do much, but that also causes me to be less physical and reduced my movement speed in all directions significantly.
I am still open minded to different tennis shoes, but I think I need to stay in the lightweight zone and lower to the ground. Shoes I want to try but havent: Adidas Feather III, Nike Vapor 9.5. If you know of any tennis specific shoes that might fit my minimalist style, please let me know.
As for other complete minimalist shoes, I have seen some of the Vivobarefoot models as well as the Minimus line from New Balance. The Minimus looks very promising but the reason I won't buy it for tennis is because it probably has the same court life as my Feiyue shoes for 5x the price.
Also, if there is anyone who knows a lot about traction and what type of tread allows for sliding and what type does not (perhaps you can slide in any type of tread? I haven't tried), please enlighten me.