He picked ME out of the crowd to talk to — he definitely didn't have to do that. In fact, most people in his situation would avoid a possibly awkward situation. But almost from the first moment he approached me, I could feel the empathy and kindness he has emanating from his every pore. Whether it was how he spoke to me like a normal adult, leaned in close to catch my every word, or how he knew not to try to awkwardly shake my hand, he surprisingly had more empathy in his little pinky finger than many of the strangers, friends and even doctors I've dealt with over the years.
I've always referred to my stroke as "My Stroke Of … Luck?" but for the first time, this feels unequivocally like "My Stroke Of Luck." Period. It was a magical, heartwarming, eye-opening, unforgettable experience. And with a heart full of
good
luck, I can say proudly, you haven't lived until…
10. You've sobbed all over the number one tennis player in the entire world because for the first few moments when your eyes met, you were able to keep it together but as he came closer and placed a reassuring hand on your shoulder, you completely lost it because his kind eyes staring straight into your fragile soul and his warm smile — dimples, eye creases, high cheekbones and all — that you've seen on television every single day for years was just way too much for your child-like fangirl heart to handle.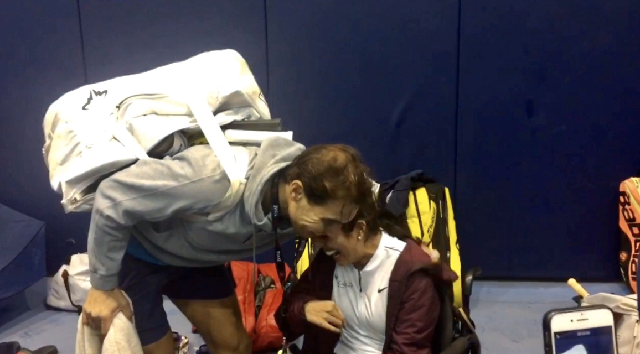 9. You've felt the immense kindness of the raging bull with a soft soul as he saw your giant tears and didn't get overwhelmed or creeped out by a sobbing adult, but just bent down, without a word, and gently caressed your cheek with the back of his knuckles and then proceeded to give you a big, validating, loving hug that told you that he sees you.
8. You've had your brother tell Rafa a little white lie for you — that before your stroke, you saw him play in Madrid in 2005 and you've been a fan since then — to succinctly explain to him your level of fanaticism without boring him with the verbose truth where you actually did try to see him play in Madrid in 2005 but the ticket collector at the complex laughed at your request for tickets. He told you tickets were sold out and so you asked, "Since when?" He replied, "Since always. It's NADAL!" and you've been chasing him ever since.
7. Rafa himself invites you and your family to watch his private, locked-door practice the following morning which you all accepted immediately and emphatically and thus thoroughly enjoyed/watched in disbelief as the egoless legend, entourage-less and picking up his own balls, practiced 5 feet in front of just his coach and your family for two glorious, top spin-filled hours, which his coach informed you that he never, ever does but you guess he knew this little Indian family was his forever.