quick and dirty translation, still should be much better than a machine translation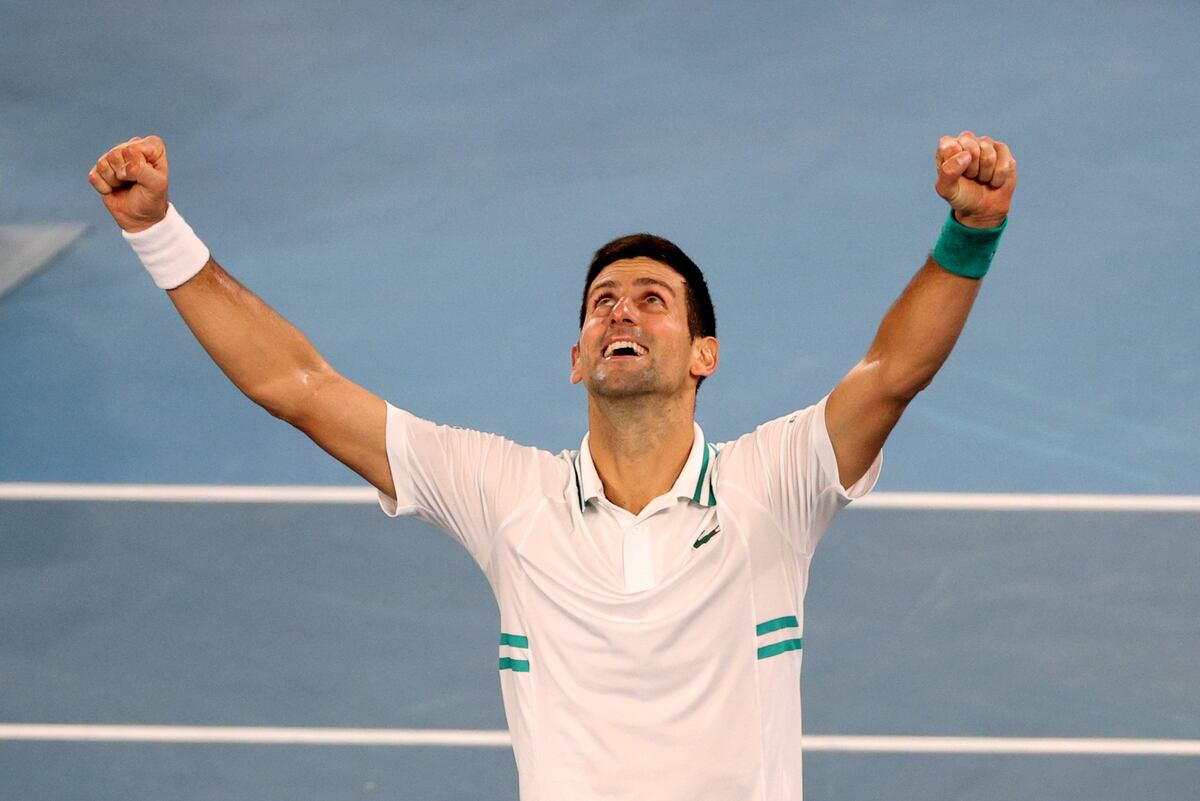 Con 311 semanas al frente del 'ranking', el serbio desbanca a Federer como el número uno más dominante de la historia. García-López, Corretja y Arrese analizan su juego, evolución y personalidad
elpais.com
Now Djokovic has it all: war and peace
With 311 weeks at the top of the ranking, the Serb has ousted Federer as the most dominant number one in history. García-López, Corretja and Arrese analyze his game, evolution and personality.
In 2005, when I first played Novak Djokovic, in the second round of the Wimbledon grass, I ended up with tears in my eyes, says the La Mancha native, Guillermo García-López.
"I felt very frustrated. I had beaten Ferrer in the first round and was playing well. I was two sets up and had a match ball at 5-4 on serve. So, I made a good first serve, then hit a forehand winner to the opposite side; it kissed the line and the linesperson called it in. Novak came to the net to shake my hand, but suddenly, when I was already celebrating, the chair umpire overruled the ball out. I managed to regroup back and found myself up 6-5, 40-0, but he turned that game around and then the match. It was one of the very few times that I have left the court crying", says the veteran player, who at 37 years old (current ATP ranking 236) is rushing through the last stint of his career, to highlight the Serb's unwavering hunger. The same player who, since yesterday, is king among kings.
Djokovic never tires of winning or collecting records. While he races against Rafael Nadal and Roger Federer to be the male player with most majors in history - the other two with 20 apiece, himself with 18 after the Australian Open he won two weeks ago - he has made sure that from now on, he will be remembered as the most dominant number one in history. After this Monday's update of the tally, Nole accumulates 311 weeks and has definitely left the Swiss behind, which made us remember an old video from '94 in which, as a 7-year-old boy, he said with determination, with a backwards cap on, that for him tennis was already "an obligation" that required him to train at night and that his goal was to be at the top of the circuit. Said and Done, in capital letters.
"In the Madrid Masters, I remember how he was already in top gear and only let me win three games," reminisces García-López in reference to his 2011 duel with the Serb, which had them play in the Caja Mágica, shortly before his rival climbed to the top of the rankings for the first time. By that time, July 4, Djokovic was 24 years and 43 days old, and was already threatening to impose his tyranny on the tour. "What impresses me the most about him is that it is practically impossible to find a single hole in him," intervenes Alex Corretja, former world number two, double finalist at Roland Garros (1998 and 2001) and tour finals champion (1998).
"It is tremendously difficult to hurt him in any way, whether you play slice, topspin, to his forehand or his backhand… When someone is set to play against him, no matter where, they know it's going to be a horribly difficult match. With Sampras or Agassi, you knew that for example on clay they were more likely to falter, but he has no such cracks. He is capable of winning everything on all surfaces, at the highest level, for so many weeks at a time. He is very complete everywhere. In that sense he is similar to Nadal, although I think that tactically he's more difficult to play against than Rafa. The only option you have is to make him despair, become a complete backboard until he goes crazy", adds the Catalan.
García-López agrees with that technical analysis: "He doesn't have any weakness you can exploit. He has been improving year after year and I think he has never lost his hunger. That's what impresses me the most about him [33 years old]. Logically, everyone up there has that hunger, but he has never stopped evolving. Also, he's been able to adapt to the current conditions better than anyone else. Tennis used to be played in a very different way, and now it's changed a lot; but he has adapted really well, same as Nadal [34] and Federer [39].".
Jordi Arrese, who won the silver in men's singles in the 1992 Olympics, and was the Davis Cup captain who first drafted Nadal into the team, thinks that the Belgrade player has reached a kind of perfection. "He's returning phenomenally and, despite what it may seem, he's also serving phenomenally. I think he is the player who serves consistently closest to the lines. His forehand is more versatile now, so he has the choice to step into the court or tighten up defense, and he has improved his serve and volleying a lot. In addition, he's been learning to break the flow and shorten points with dropshots. He spent a couple of years resting on his laurels, with too much peace; he lacked war. And now he has it all: the war and peace he needed."
Always in the eye of the storm for whatever reason, Djokovic is haunted by a bad rep he can't quite shake off. "Not because of the racquet breaking, since there are many idols who have done that; but because of the way he manages his ailments. People do not quite understand how someone is able to recover when a moment ago he was not able to walk, or his arm was hanging limp. I think he just has a higher pain threshold than anyone else. But I can perfectly understand how when he finds himself troubled, he likes to exteriorize his problems. He's hot-blooded, Balkan, he gets nervous. He, Nadal and Federer are different in the soul. He is a misunderstood idol. Should he really strive to be exemplary? He must do what he believes and feels. Nobody should act like a robot", reasons Corretja.
"We are in Rafa's country, and a Latin country at that. What I mean is, for us, our guy is the best. But Novak is phenomenal and a good person", adds Arrese. "Although he does display pain more than others, and that sometimes feels odd. I remember playing against him in Estoril, and at a point when the match was very close, he stopped it for ten or fifteen minutes because he said he couldn't see well… It's a habit that has come and gone with the years. Perhaps he has little filter, and says whatever comes to mind; maybe not in the same way one would talk to a friend, but if he wants to say something, he says it, and that sometimes hurts his image. In any case, nobody can argue against him being one of the very best in history", resolves García-López.
Comparisons are always tricky, but for the La Roda (Albacete) native, Djokovic reminds him "strategically of Borg, for his ground game, and mentally of Connors for the clutchness". Arrese, meanwhile, draws the parallel with Ivan Lendl: "They have a similar profile, that fighter mentality, almost mean-spirited. But he also knows how to chill and has evolved much more. Nobody on tour could stand Lendl."
Last edited: