Hi all,
Recently I have been revisiting older racquets and I have started using the orange/black Prince O2 Tour MP in the last week or so. I remember I got them at the beginning of 2007, so they are at least 12 years old. lol
I have two, their current spec is about 346g, about 31.1cm balance and about 330-ish SW. one is with (1) Prince Lightening XX Spin (around 50lb) and one with (2) Prince Syn Gut (around 54lb) with Duraflex.
I had pretty good games with these in the last couple of days 9after tuning), but I much enjoyed the (2) with the syn gut, maybe because it has a tighter tension atm. both felt good and brought back some good memories. I can feel the larger sweetspot and still comfortable with the thin beam - this moves quite fast too.
My usual go to stick (currently) is the TC95 RA63 16x19 - I have had many good games/matches with it - this has about the same spec as the O3 tour, but with SW of about 335. I have stopped using dampener on all racquets, and now quite enjoyed the ping sound atm.
I really like the Halo 3 on the TC95, so I may get the (1) restrung with Halo 3 at the suggested mid tension (I think it is 58lb) and see how it plays, since I liked the syn gut on the (2) one.
Anyway, can I ask what is the current Prince offering that is remotely similar to the orange/black O3 Tour MP? The ones I have are still in great condition, my the inner nerd in me is always looking for an excuse to get more... lol Although it is MP - 100 sq inch, but I don't mind it is a little smaller.
TIA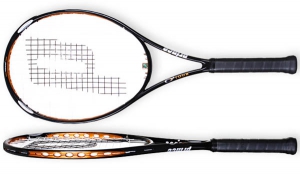 ps - not sure if this thread should be here or to the "Classic" section....
pps - the pic linked from review stream.com
edit - it is indeed 100 sq inch, not 110 sq inch as initially posted.... lol
Last edited: