Rafael Nadal: The Best Is Yet to Come
By Andrew Prochnow , Analyst Jan 31, 2015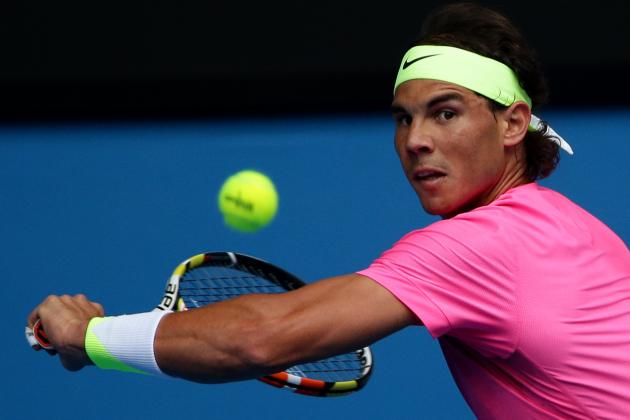 Apparently it's time to write off Rafael Nadal...again.
Nadal lost this past week to Tomas Berdych during the quarterfinals of the 2015 Australian Open. And now it's time to forget the 17 straight wins Nadal had pounded out over the Czech player.
Yes, it's the most recent match, and that one only, that should carry the most weight in terms of evaluating Nadal's future trajectory.
Forget the fact that Nadal had played a total of four professional tennis matches since Wimbledon last year before entering the 2015 Australian Open.
Forget the fact that Nadal himself proclaimed he wasn't yet back in form after taking time off due to back problems, wrist problems and appendicitis in 2014.
And we might as well forget the fact that Nadal entered the 2015 season owning the still active record for the most consecutive years with at least one Grand Slam title in a season (10).
Certainly, one might arrive at the above conclusions by reading some of the media coverage relating to the Spaniard in the postscript of his quarterfinal exit from Melbourne.
Peter Bodo, for example, suggested as much with his piece for ESPN.com entitled "Berdych beats ticking career clock."
Bodo certainly called Nadal's future into question with the following philosophical gem regarding the two players: "His [Berdych] match against Nadal was a riveting study in the contrast between two men going in opposite directions."
To borrow a phrase from the great player come television announcer John McEnroe: "You cannot be serious!"
Two men going in opposite directions?
We are talking about one of the all-time greats in history versus a player who at this late stage is still aspiring for his first Slam—and the latter is the older of the two!
After infamously shushing the crowd during a post-match celebration over Nadal in 2006, Berdych proceeded to lose 17 straight encounters against the Spaniard—which puts him in a tie for the most consecutive losses against a single player in tennis rivalry history.
And now, with Nadal still playing himself back into shape after a long layoff, Berdych's recent victory was a "riveting study" in the contrast between two players "going in opposite directions"?
A far more meaningful "study" was watching Nadal own Berdych en route to accumulating a good bulk of his 14 majors while the Czech player remained stuck in neutral searching for his first.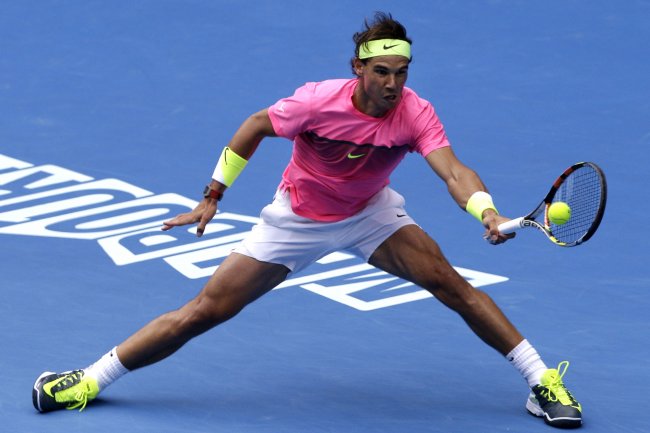 End of study.
A much more plausible conclusion Down Under is that Rafael Nadal simply had an "off" day on the comeback trail, rather than the notion that his stock is suddenly plummeting like Lehman Brothers with questions swirling about his future.
Folks apparently aren't kidding when they lament the over-dramatization of the 24-hour news cycle.
That same media machine almost assuredly produced a similarly-toned article by Chris Chase for USAToday.com entitled "Is this the start of Rafael Nadal's Inevitable Decline?"
Come again?
Yes, Nadal's style of play puts excessive wear and tear on his body.
Yes, Nadal has been nicked up since another early bow-out at Wimbledon last year.
On the other hand, Nadal is still in the midst of that consecutive-years Slam record at the age of 28. He's also the five-time defending champion at the French Open in Paris. And he has won the most Masters 1000 titles in the history of the sport.
If Nadal has shown anything during his incredible career, it's his signature resilience.
What other player has faced so many questions and doubts despite accomplishing amongst the most of any player who's ever stepped on a tennis court?
Wouldn't it be something if Nadal for once was afforded the benefit of the doubt?
My, my, wouldn't that be something!
It's well known that Nadal has been forced to take time off due to injury at times during his career. But it's equally well-known that each and every time it happens, Rafa seems to rebound in fantastic fashion.
In fact, Nadal's return to tennis this season is eerily similar to his return in 2010.
Bouncing back from knee issues in 2009, Nadal made the quarterfinals of the 2010 Australian Open. He then proceeded to reel off three consecutive Slam titles while in the process becoming the first and only player ever to win majors on three different surfaces (clay, grass, hard court) in the same calendar year.
Likewise, after missing the 2013 Australian Open, Nadal tore though the remainder of that season by not only raising the winner's trophy at the French Open but also becoming the first person since Andy Roddick in 2003 to sweep the North American hard court season (Montreal, Cincinnati, New York). The last feat being especially notable given the tendency of many to label Nadal as a one-surface wonder.
Looking at Nadal's current comeback through a more realistic lens suggests that the time was possibly never more ripe for Berdych to steal an elusive victory over the world's No. 3-ranked player.
Nadal's entire game is built on his physical prowess. His movement, defense and resilience represent that signature brand of never-say-die tennis that a healthy Rafa brings to each and every match.
Without full access to these physical gifts, Nadal simply is not the same player. His mental toughness is built on top of his physical game, so if slight fractures appear in the base, the entire structure can crumble.
Glimpses of vintage Nadal were seen Down Under this year. He faced six break points against Kevin Anderson in the first set of the fourth round and saved them all. Nadal then converted his second break-point chance and proceeded to rout the South African.
That's classic Rafa, stingy when facing break points on his own serve, and opportunistic when an opponent presents him with the same chance.
Will Rafael Nadal Win the 2015 French Open?
Yes
No
SUBMIT VOTE vote to see results
If anything, what was clear in his match against Berdych was that Nadal is still not 100 percent back in terms of physical conditioning. The Spaniard routinely watched winners whizz by him that in the past would have been returned with interest.
It's true that Nadal played a bad match against Berdych during the quarterfinals. It's also true he doesn't quite look like himself.
The key addendum that must be added to the last assertion is the word "yet."
Nadal stands only three titles behind Roger Federer for the most in Grand Slam history.
In his present state of mind, that gap may seem wider than the distance between Melbourne and Paris.
However, if history repeats itself, Nadal will once again play himself back into shape. And the next Grand Slam of 2015 will be played on what has effectively become Rafa's home court.
If Nadal can follow the same path set during previous comebacks, and there's no good reason to believe he can't, then the man from Mallorca will be raising his 15th major trophy come June.
And moving within two of Federer may have quite the dramatic affect on his motivation and desire to complete the job.
If Nadal does indeed rehabilitate his body enough to reach his goals in Paris this year, then the final chase for Federer's record could be an epic conclusion to what has already been arguably the greatest period in tennis history.
Doubting Nadal's determination and resiliency has never worked in the past.
In fact, a review of Nadal's past clearly illustrates that the opposite stance should be embraced—that the best is yet to come.
Stats courtesy of ATP World Tour
http://bleacherreport.com/articles/2349002-rafael-nadal-the-best-is-yet-to-come
Last edited: