Latest from
A Thread of Order
Novak Djokovic defeated Casper Ruud 7/5 6/3 to clinch a record-equalling (Federer) sixth ATP Finals title in Turin on Sunday. The Serb went undefeated through the tournament (5-0) and pocketed $4.7m with the win. He also extended his H2H to 4-0 over Ruud.
While most pundits would have picked Djokovic to reach the final this week, few would have seen Ruud as the Green group winner and eventual runner-up. Often dismissed as a clay courter, the 23-year-old Norwegian has had an impressive year on the hardcourts:
Miami Masters 1000 final (lost to Alcaraz)
Montreal Masters 1000 semi-finals (lost to Hurkacz)
US Open final (lost to Alcaraz)
ATP Finals final (lost to Djokovic)
While not the most talented or athletically gifted player on tour, Ruud's game hits many of the technical markers I've been writing about here. Notably:
A low serve toss. A quote from a prior piece:
"If I had to summarize the mechanics of great servers…they tend to move the racquet quickly through a lot of space…we see the racquet head maintain or build speed through the backswing (where the racquet moves behind the player's head). A low toss is the most instinctive way to to create a fast swing."
The six-foot Ruud has been dominating on serve this year, joining 6'3'' - 6'10'' giants and placing in the
ATP's top 10 for serve rating.
It's sneaky quick and hard to read.
Gravity-assisted forehand. From "Death of a Forehand - Part I":
"…great forehands in recent decades have been of the same '

modern

' kind, tending to differ by degrees only…while they each have their own style and grip, they all contain two key elements that I believe are necessary for their success. The first is a

neutral/extended wrist in the set-up

. The second is the use of gravity to start the downswing by

pointing the racquet tip up."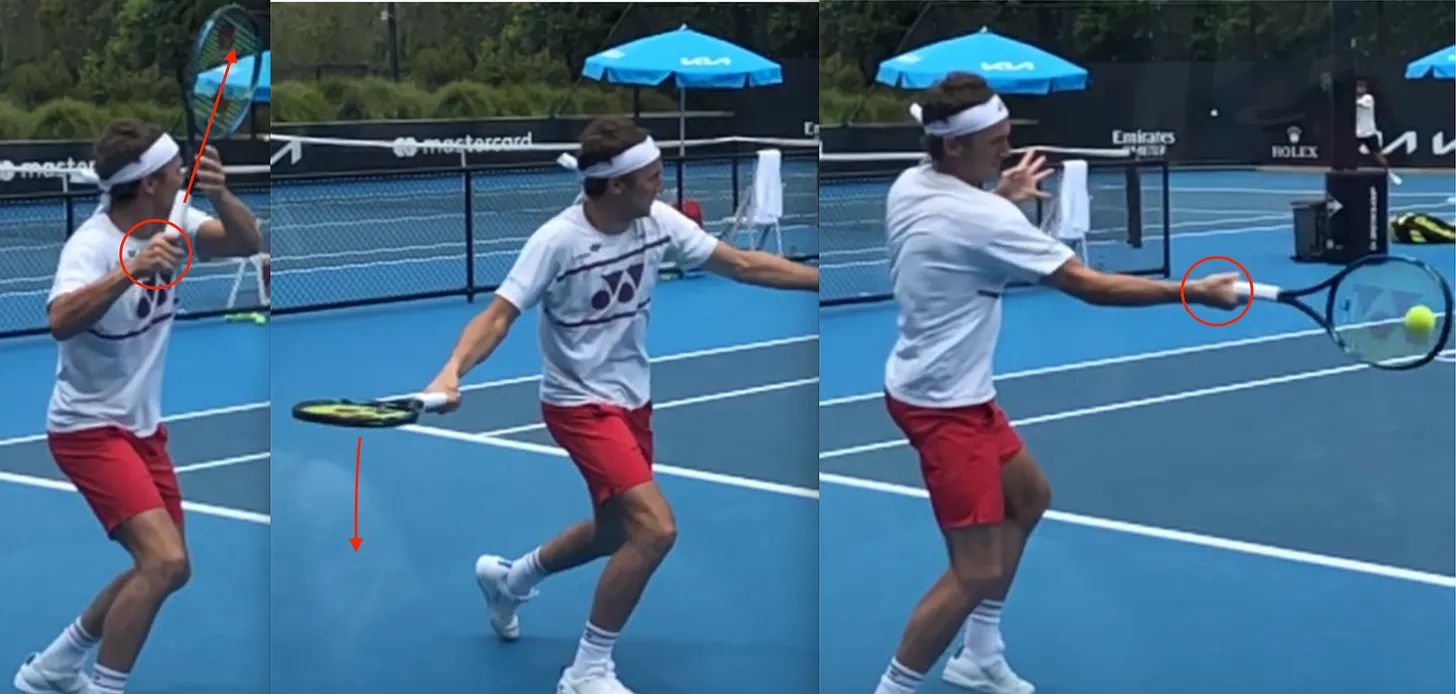 Left-to-right.
High-noon takeback
with a neutral wrist. Strings pointing down in the middle picture with the
racquet head laid back
(facing the back fence), not flared out to the side (or facing the side fence). Note the palm-up contact position because of his more extreme grip.
Ruud and Djokovic lead the way in forehand quality.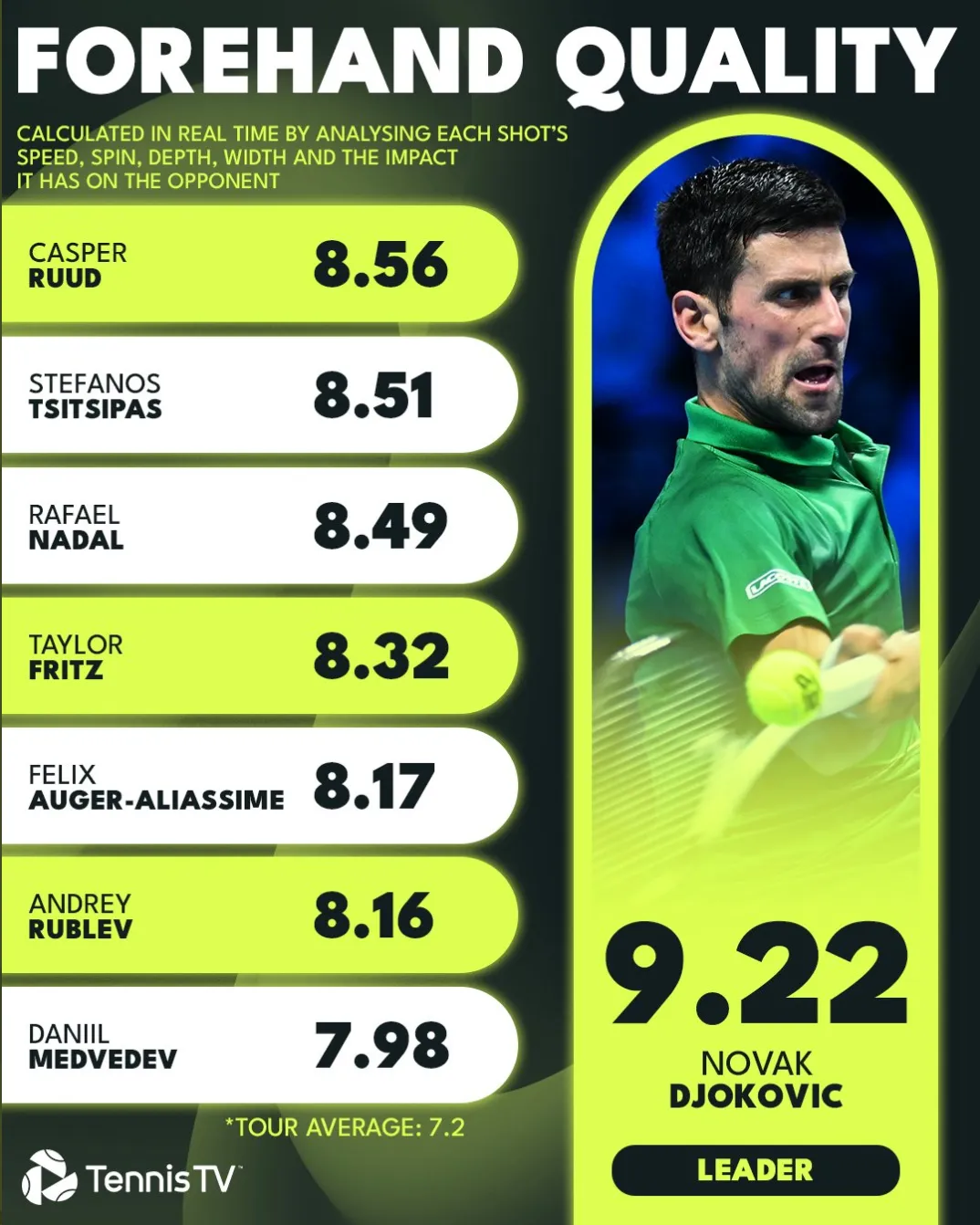 Ruud's most recent improvement has been a change in his backhand set-up. I
tweeted
the change in detail, highlighting his more open strings and higher and fuller take-back; all things you would see in great backhands. If you have a keen eye, note the lower take-back and closed strings back in march in Miami
here
. That backhand wasn't generating racquet head speed with gravity, but lag, and as a result I felt he was more susceptible to mistiming the ball. The newly tweaked backhand has seen an improvement in his numbers compared to last year's Finals edition. Shoutout to Matt Willis at
The Racquet
for digging up the round-robin numbers. Ruud's W/UE's last year averaged -7.3. This year? -5.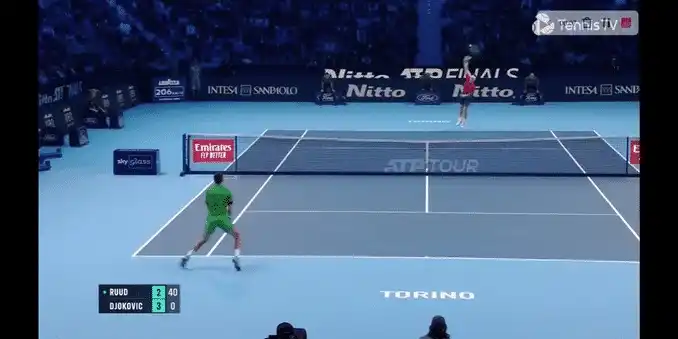 Notes: Djokovic split-steps
left
anticipating a cross-court backhand. You can see Ruud's racquet set-up high and further behind his head with more open strings, rather than around his hips and to the side (R) like he was in Miami. Swinging from the inside means you are more likely to catch the outside of the ball and draw this ball back into the court, rather than slice/fade it wide.
The Norweigian was no slouch in TennisTV's backhand metric either: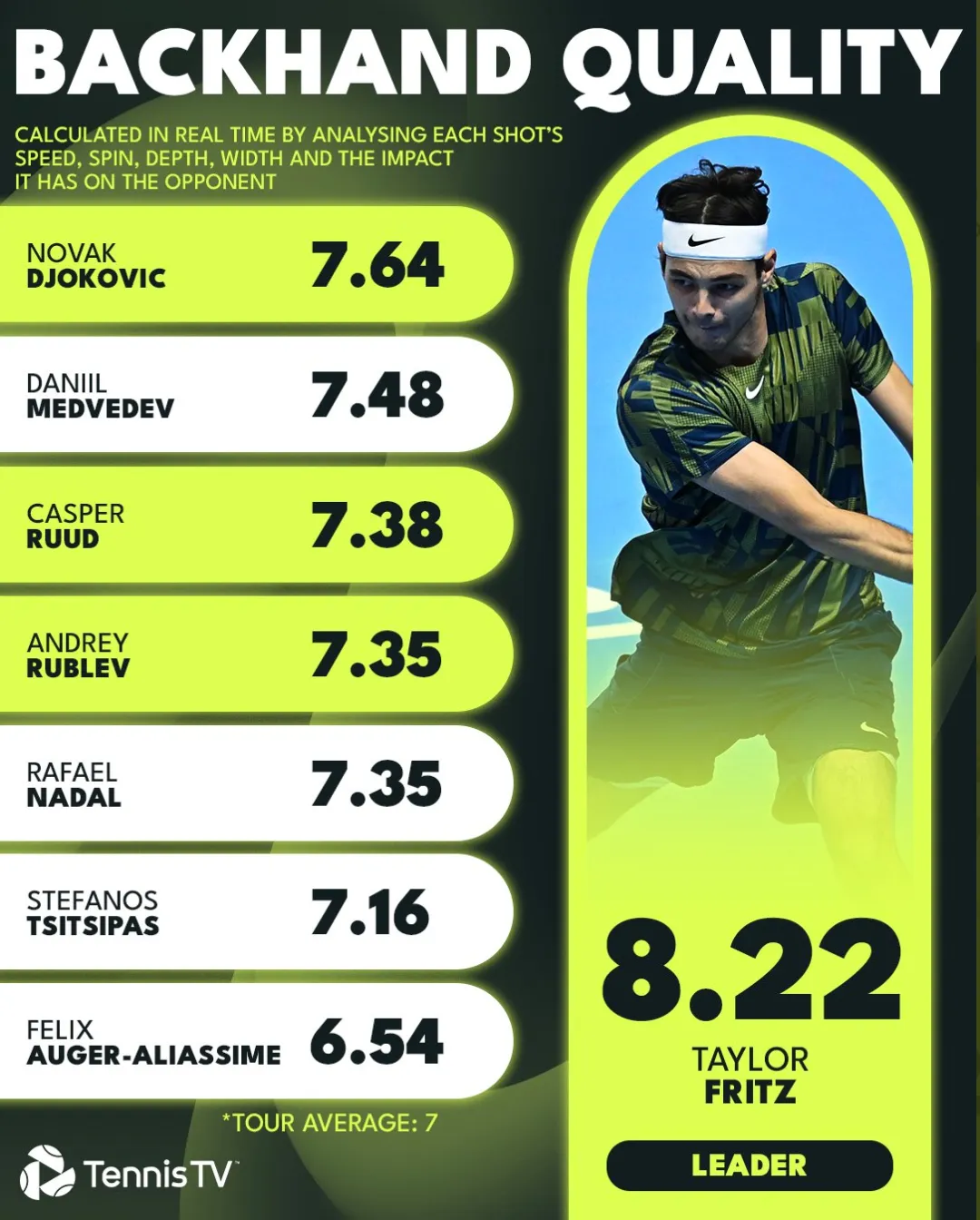 Notes: Rublev and FAA both hit their backhands with the racquet head outside the hands in their set-up. I've written multiple times, on Rublev
here
, and FAA
here
, and
here
. Ruud now joins
Fritz
,
Djokovic
, and
Medvedev
as players who set up with the racquet head swinging from the inside with gravity/power-position to drop the racquet head. Note
fritz plays the locked-wrist follow through
that Djokovic also employs. Great technique is often about "
via negativa
" -
removing moving parts
.
A final tactical note. On hard courts Ruud has adopted the Wawrinka-esque return strategy of blocking first serves close to the baseline, then reverting back deep to take big cuts on the second serve with his forehand, which is where he is more comfortable. I don't have data, but it would be interesting to note how many 1st-serve returns were put in play by all eight guys this week. My hunch is Ruud would have good numbers, and TennisTV
ranked him fifth
overall this week in return rating. Sure it's not a dangerous reply, but it's a great strategy to build pressure.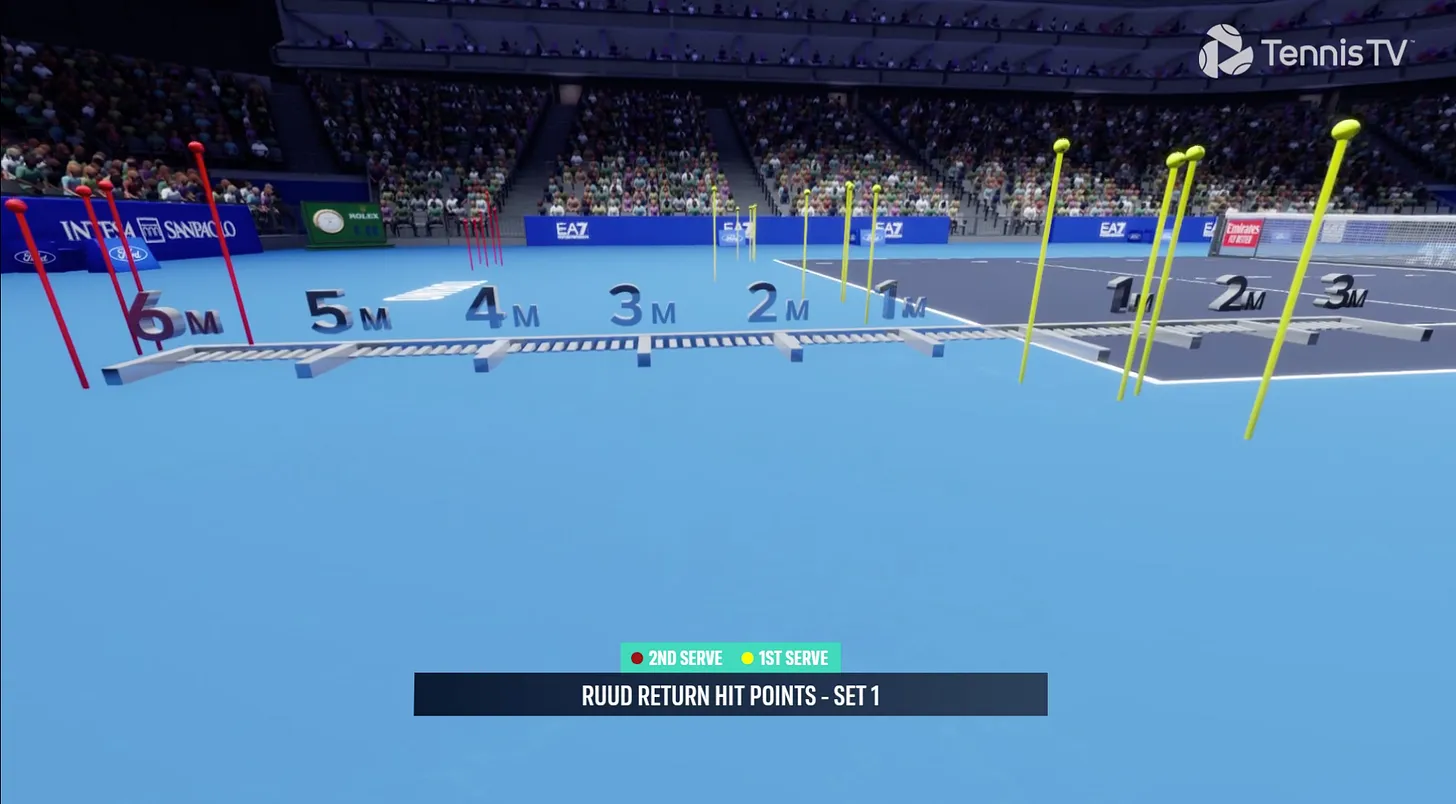 This was from the Ruud v Auger Aliassime round-robin match.
Patterns and strategies
Ruud likes to play with time and bounce on the forehand. When he has time he can unload with a lot of power and spin and hurt guys from deep positions.
Textbook example of what Ruud likes. Initial high heavy forehand earns a weaker reply that gives him time to really set up and unload on his forehand. Earns a forced error even though he hit this 3+ metres behind the baseline with Djokovic still guarding that wing.
Djokovic did well to continually rush Ruud for time, stepping in to take balls on the rise, and redirecting with brutal and pinpoint precision. Ruud was often never set, having to slice backhands or spin forehands back defensively.
Djokovic hit his forehands harder and flatter than Ruud. Note how Ruud has to just brush and roll his forehand back defensively here. Even though he is way behind the baseline, with his grip and swing he needs time and bounce. Djokovic did well to commit to a flat and aggressive strategy closer to the baseline, even if it cost him some errors. TennisTV's data indicated his Djokovic's forehand was the best all week.