Germany's Tatjana Maria is considering suing after controversial defeat to Alize Cornet at the French Open - but admits she is not sure who to sue.
Maria believes Cornet broke the rules over treatment for cramping during her 6-3 6-7 (5-7) 6-4 second round win.
Cornet cramped up in her right leg during the second set tie-break of her second round clash against and needed regular treatment throughout the deciding set.
But Maria insists the rules, which forbid treatment for cramping, were broken while she was equally furious that the trainer and the tournament supervisor physically helped Cornet to her chair after she collapsed in agony on the court.
Maria also claims that Cornet also exceeded the 20-second rule between points as she tried to ride out the cramping.
"We want this (legal action) because it was simply not fair in the match," she said.
"I think that's important for the sport. It's not about the defeat. I accept that."
Maria said her husband Charles had already consulted a French lawyer with expertise in sports litigation. There are more meetings planned in the coming days, she added.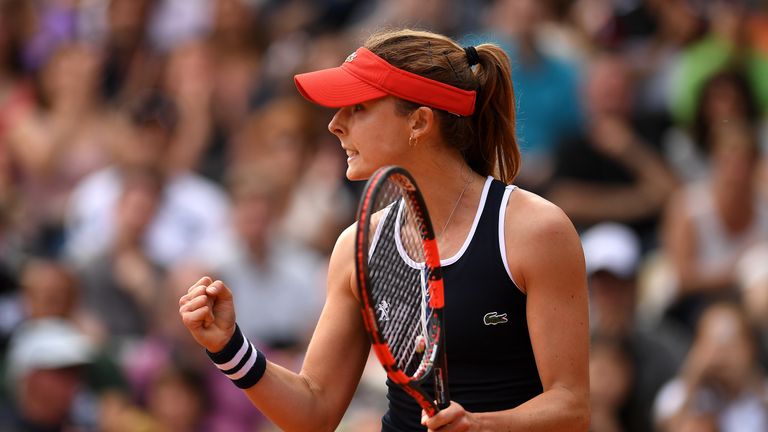 Alize Cornet came through a bout of cramp to beat Maria
However, she admitted that they are not certain who they will sue - the International Tennis Federation, the WTA or the French Open.
Maria said she would not pursue action against Cornet.
The German added that she had received widespread backing for her complaints from other players in the dressing room
"Even French players have told me that they are behind me. That was nice to hear, because the defeat hurt," she said.
Maria had a degree of revenge for her loss when she teamed up with Madison Brengle of the United States to defeat Cornet and Poland's Magda Linette in the doubles Friday.
Cornet, 26, insisted she did not seek treatment for cramping but had developed pain in her left hip and called for the trainer before completing her win.
She said she was mystified by Maria's frustrations.
"I didn't understand so much why she was so mad at me. She even told me when we shake hands that she thought I was not fair play.
"I didn't choose to cramp at the end of the second set, and I didn't choose to have this pain in my leg, and I needed a treatment for that. I didn't take a treatment for my cramp because I know the rule, and I respect it."
Cornet's run was ended by Venus Williams in the third round on Saturday.
http://www.skysports.com/tennis/new...-sue-after-french-open-defeat-to-alize-cornet