Finally some PS4 tennis games. I was so hyped when I heard a ps4 tennis game was coming. Tennis World Tour announced early this year. Now a second tennis game called AO Tennis is also gonna be released presumably before Tennis World Tour (16th of January in Australia and New Zealand, Early 2018 Worldwide) Tennis World Tour will be worldwide in spring 2018 is said. So if we can compare what we know so far.

Players confirmed so far:
Tennis World Tour
: Roger Federer, John Isner, Alexander Zverev, Nick Kyrgios, Gaël Monflis, Angelique Kerber, Caroline Woznkiacki, Garbine Muguruza, (said to be 30 players in all)
AO Tennis:
Rafael Nadal, Angelique Kerber, and Goffin is presumed to be in AO Tennis, because of the AO Tennis trailer at 0:33, (it's said that there will be dozens of other playes)

Licenses:

Tennis World Tour:
No arenas licened, it will be fantasy tournaments.
AO Tennis:
Australian Open will be fully licensed with Rod Laver Arena, and maybe more Australian Open arenas. Not more announced
Trailers:
Tennis World Tour:
AO Tennis:
Game/play Modes:

Tennis World Tour:
Career mode, create players
AO Tennis:
Career mode (you will start out low in rankings and will work your way to be number #1. It has been said that you will start from Rank #1500) , play Australian Open with Singles, doubles and mixed doubles, online play, player creator, customisation, Hard Court, Clay, Grass courts.
Images - Tennis World Tour
Images - AO Tennis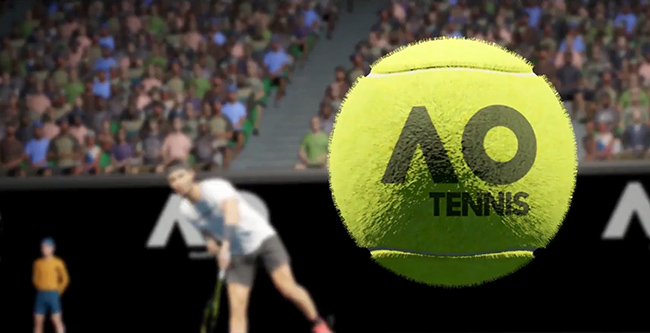 Read more about Tennis World Tour here:
https://www.polygon.com/2017/10/30/16571232/tennis-world-tour-ps4-trailer-2018
Read more about AO Tennis here:
https://www.bigant.com/all-game-list/ao-tennis/