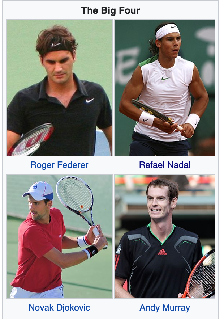 They regularly held the top four places in the year-end rankings between 2008 and 2013 and were ranked year-end world top four consecutively from 2008 to 2012 which is the longest span of dominance for any quartet of players in tennis history. Since 2007, the year-end top three rankings have been held by members of the Big Four.
The years they did not (2013, 2016 and 2017) was mainly due to injuries to two of the members during those seasons.
They have held the top two spots continuously since 25 July 2005, as well as the top-ranking since 2 February 2004, meaning that no player outside the Big Four has ranked world No. 1 in more than 16 or even No. 2 in 14 and a half years.
All four have reached a career-high No. 1; Federer has been world No. 1 for a
record 310 weeks
, Djokovic, the current No. 1, for 282 weeks (third since the inception of the
ATP Rankings
in 1973), Nadal for 209 weeks (6th since 1973), and Murray for 41 weeks. Federer, Djokovic and Nadal have all been
year-end No. 1
on five different occasions, only interrupted by Murray in 2016.
Last edited: