The scapula and rib cage form a joint, called the
scapulothoracic joint
. But this joint does not have a bony connection to the rib cage. The scapula moves around on the rib cage. The scapula repositions the shoulder joint (glenohumeral joint) which is located
on
the scapula. The scapula is probably used for more than just positioning, its motions may also contribute to racket head speed. ? To be determined............
High speed videos show that the scapula moves around rapidly during tennis strokes. Scapula in protraction during the forehand follow through.
Picture from a Fuzzy Yellow Balls video.
Scapula in protraction in one hand backhand turn back. The edge position of the scapula is visible.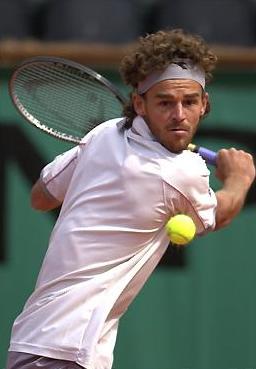 "The Role of the Scapula." Read the function of the scapula and its joint motions especially for the joint motions of
protraction
and
retraction
.
Do we have any information on the part played by the scapula during tennis strokes or pitching?
Last edited: