Yo! Shapo, lay me out a beat…
"I got plenty of haters, you can call them Fed stat manipulators, or TTW administrators, they all facilitators, just a bunch of internet gladiators, I am for real, made of steel, its my turn to take the wheel, even after I got a raw deal, yeah you haters, I really did hurt my abdominoperineal.


Laugh at me walking the Pyramid tunnels, you guys always have the rebuttals, but dont have the knuckles to get in the rumbles, so I will bounce it again, because I can hear you complain, I will serve when ready just to make you unsteady, especially when I beat Meddy.


Still upset, cause I am about to take another set, freight, cigarette, regret, cold sweat, argument debt, cause I am about to win as many slams as letters in the alphabet, you used to say how many weeks, now that argument just wreaks, so you make some tweaks, say its about streaks, but I just won the Australian Open with torn obliques.


Fall back to calling me possum, you must be smokin that drymoglossum, I hurt my abomasum, look it up, yeah now you know I am awesome, I didnt forget about you Rafa fans and your clay, bunch of radioactive decay, Schizosaccharomycetaceae of endomycetale, Sunday, watch the display, stay, stray, look away, pray, delay, but either way, my play will be better than a Monet.


Keep the beat up Denis, Tell me how much I have ruined tennis, I am such a menace, but at least I dont have a micro
, call me anti-vax, your about to see me climax, do you need a tampax, relax, you hacks with your wisecracks, does 40-15 still give you flashbacks?


Dont worry about the records, those will all come later, once I put on the accelerator, you wont need an investigator, but it will be a deflator, cause your a hater, but tonight, i go for nine, and when I cross the line, you wont be saying Fed is in decline, youll be in shock like Frankenstein, so let me give you a sign, my injury is gone and I am fine, I hurt you like a porcupine, as I roar on the baseline, you become a salt mine, I won my 18th slam… what a storyline."
Djoker, aka, The Serbian Accordion, aka, the Serbian Scorpion will BEAT Medvedev.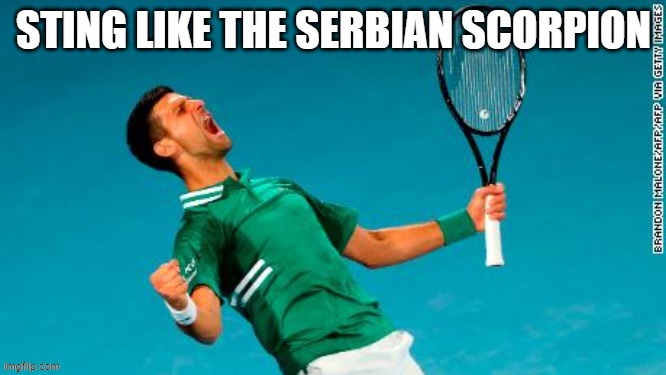 See, I predicted a Djoker win, you are welcome NC!
@Nole Slam
@NoleFam
@NoleIsBoat
@The Guru
@GabeT
@Djokovic_is_the_best#1
@Djokovic2011
@Doctor/Lawyer Red Devil
@TheAssassin
@King No1e
@I Am Finnish
@Tennis_Freak99
@TripleATeam