Below are stats about how our finalists have done in the US Open, and also on fast hard courts coming in. Main messages are:
Fast hard court form. (see below for list of "fast" courts)
Federer is undefeated (30-0) and dominant (won 93% of sets) on fast hard courts post USO 2014
Djokovic has not beaten Federer on a fast hard court in 4 years, and has not taken a set in 3 matches since USO 2014; historically Federer has dominated Djokovic on fast hard courts 13 to 4; (vice versa on slow hard courts 3-10)
Since USO 2014 Federer has improved immensely on fast courts compared to the period post USO 2013 to USO 2014; whereas Djokovic has not improved; suggesting Fed's recent USO performances may not be a good form guide for tomorrow.
USO 2015 form. (updated from previous thread)
Both players have been equally dominant in terms of winning sets, games and points
Djokovic has been stronger on return, and Federer on serve; the two effects have more or less netted out
However, Federer has played significantly stronger opponents

Federer has played more first strike tennis (much better winners to unforced errors ratio); whereas Djokovic has elicited far more mistakes from his opponents; possibly because he makes them run like crazy on each point
Federer has not exerted himself much and should be fresh for the final
I've seen enough. I'm calling it:
Federer to win USO 2015 and the Law of 13s to come true!
Please vote in the poll above. The fourth option has a typo. It should read: "I previously thought
Federer
, and after reading the thread I still think
Federer
"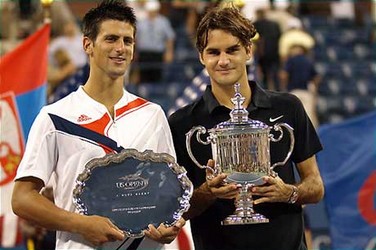 (
Dark blue means significantly better
;
light blue means slightly better
)
P.S. From relevant tournaments I have considered the following to be "fast hard courts".
2000: USO
1000: Cincy, Shanghai
500: Dubai, Basel
250: Brisbane, Doha
There was some discussion in my
other thread on a similiar topic
. I had originally included WTF and Paris as "fast," but was persuaded to leave them out. If you include WTF as a fast hard court, the career "fast" H2H goes from 13-4 to 14-6, and "slow" head to head goes from 3-10 to 2-8
Last edited: